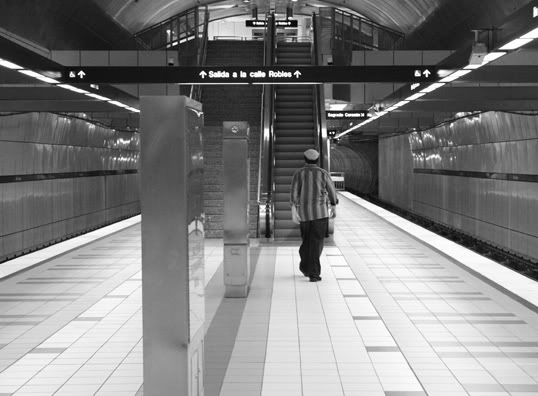 The Nowhere Train or Tren Urbano as the locals call it, is a fucked-up-mass-transportation-train-like-system, never designed to reduce the need for cars since it actually goes nowhere. A single line covering an amazing distance of 10.7 miles and a one-way ticket fare of $1.50 will take you nowhere in no time.
The ticket price, at least still the same as back in the day when the
Good Old Train
used to stretch over 160 miles connecting most of the principal cities and almost circled the Island around. Now with 16 stations, the
Nowhere Train
connects nothing really that important*. If planning a visit to Puerto Rico never consider riding the Nowhere Train to, or from any of the airports since it doesn't stop near any of them. You might also never consider ridding it to Old San Juan, Ponce or Mayagüez. Not even to go shopping to Plaza las Américas**, one of the main tourist attractions.
The Nowhere Train. It will really take you nowhere!!!
* Except for an ice cream parlor, a college, two stadiums and a court house.
** The biggest-most-hugest-shopping-mall-ever built in the Caribbean. Also called El Centro de Todo, or Center of Everything by the locals.